Glazed RadishesGlazed radishes only take a few minutes to prepare, and make a great side dish.
....
Beijing Radish SaladThis can be made with watermelon radishes or other types... The picture has a couple of other veggie....
Spring Radish SaladAdapted from Verdura Vegetables Italian Style by Viana La Place....
Braised RadishesBraised radishes take about 15 minutes to cook, and taste absolutely amazing. ....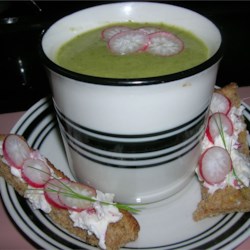 Radish Top SoupBy: LAURA NASON "This is an easy recipe that uses an unlikely part of a vegetable we love to eat. ....
Intel gardening?When geeks garden, radish technology advances...
Welcome to Radish Garden.
We are dedicated to bringing you healthy and tasty radish recipes, as well as how-to articles, like growing, and preserving your crop.


Need Quick Help?
Help! My Radishes Aren't Bulbing/Rooting.

Where Can I Find Daikon Seeds?

Share your recipes with us! The recipe upload feature is now available, so feel free to share your radish related recipes!

Vitamin-rich vegetables
We seldom think of a simple radish as a source of nutrition. A close look reveals that it is largely made up of water (more than 90 percent) yet contains as much potassium as bananas and about half the ascorbic acid of oranges.

Rich in vitamin C, folic acid and potassium, radishes are sliced thin to add a pungent crunch to summer salad, or grated fine and added to vinagrettes, or mixed with tea and honey as a curative for colds. Radishes are also carved into "roses" to make a decorative garnish.

With dozens of ways to cook radishes, why not grow them all year? Radishes are one of the easiest vegetables to grow. From the time you plant the seed, it only takes 23-28 days before you are ready to harvest your crop. Seeds are very inexpensive, and growing is simple.

There are countless ways to prepare radishes, and they are all very tasty. Considering the short growing period, you could literally grow radishes all year and have an abundance of excellent vitamin-rich vegetebles always available.

Don't have a place to plant the seeds? Think again...Radishes can be grown pretty much anywhere, as long as the temperatures are not freezing. In fact, radishes do not require full sun. A window, or patio planter will be sufficient for growing if you live in an apartment.