Glazed RadishesGlazed radishes only take a few minutes to prepare, and make a great side dish.
....
Beijing Radish SaladThis can be made with watermelon radishes or other types... The picture has a couple of other veggie....
Spring Radish SaladAdapted from Verdura Vegetables Italian Style by Viana La Place....
Braised RadishesBraised radishes take about 15 minutes to cook, and taste absolutely amazing. ....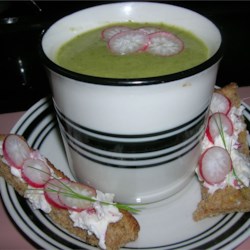 Radish Top SoupBy: LAURA NASON "This is an easy recipe that uses an unlikely part of a vegetable we love to eat. ....
Intel gardening?When geeks garden, radish technology advances...
How to Grow Radishes
Radishes come in a wide variety of colors and shapes. Small round or cylindrical salad radishes come in a veritable rainbow of skin colors, including red, pink, purple and white. Large Oriental radishes develop heavy, carrot-shaped roots when grown in the fall (daikon). Rat-tail radishes (R. caudatus) produce edible green seed pods, which can grow to more than 6 inches long.


When to plant In spring, sow salad radishes at 10-day intervals starting two weeks before your average last spring frost, continuing to three weeks after your last frost date. Sow rat-tail radishes around your last spring frost date.

In fall, sow all types of radishes at two-week intervals starting eight weeks before your first fall frost, continuing up until three weeks before your first frost date.

How to Plant When preparing the planting bed, loosen the soil 6 to 10 inches deep, and mix in good compost or well-rotted manure. Sow seeds a half inch deep and 1 inch apart, in rows spaced 12 inches apart. After the seedlings appear, thin salad radishes to 3 inches apart; thin oriental radishes to 8 to 10 inches apart. Seeds typically sprout in three to seven days when sown in 60-degree soil.

Pest and Disease Prevention Tips Flea beetles make numerous small holes in radish leaves. Cabbage root maggots and cutworms sometimes rasp holes or channels into radish skins. All of these pests are easily prevented by covering the plants with lightweight floating rowcovers. When sown early and exposed to cold weather, some radishes will bolt (rush to produce flowers) before they develop plump roots. Bolting is rare in radishes grown in late summer and fall.

Harvesting and Storage When pulling radishes in warm weather, cool them right away by dropping them into a pail of cold water. Use a sharp knife or kitchen shears to remove the leaves, then store in the refrigerator for up to three weeks. Large oriental varieties can be left in the ground well into fall and dug just before the soil freezes. Harvest salad radishes once they are bigger than grapes. Radishes left in the ground too long develop a pithy texture and often crack following heavy rains. Hot weather and drought encourage the development of spicy flavor compounds, which are similar to those found in horseradish.

Saving Seeds To save seeds from open-pollinated varieties, allow three or more plants to bloom together, and wait until the seed pods dry and turn brown before harvesting the seeds. Crush the pods with your hands, winnow or sift them to separate seeds from chaff, and store the seeds in a cool, dry place for up to five years.