Glazed RadishesGlazed radishes only take a few minutes to prepare, and make a great side dish.
....
Beijing Radish SaladThis can be made with watermelon radishes or other types... The picture has a couple of other veggie....
Spring Radish SaladAdapted from Verdura Vegetables Italian Style by Viana La Place....
Braised RadishesBraised radishes take about 15 minutes to cook, and taste absolutely amazing. ....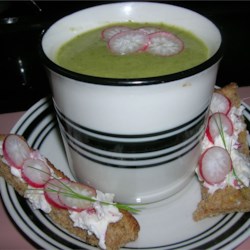 Radish Top SoupBy: LAURA NASON "This is an easy recipe that uses an unlikely part of a vegetable we love to eat. ....
Intel gardening?When geeks garden, radish technology advances...
Where Can I Find Radish Seeds?
One of the best things about having a radish garden, is that you can find seeds anywhere, or let a few radishes grow without harvesting, and they will produce "pods" full of seeds so that you no longer have to purchase them. They are already very inexpensive, however, finding certain types of radishes can be a little bit more challenging unless you order them online. Here are the best sources for obtaining seeds.


Garden CentersMost garden centers have radish seeds available throughout the year. You will probably find White Icicle, Champion, and Cherry Belle radish seeds pretty commonly. However, if you're looking for Daikon radish seeds, you might have to try another source.

Walmart's garden center, or Lowe's generally has a nice selection of your typical radishes.

eBay eBay always has a large selection of radish seeds to choose from. In fact, click here to search eBay for exactly that.

Radish seeds will last for about 5 years under cool, dry conditions, so do yourself a favor and search for auctions or "Buy it Now" auctions that include 500 to 1,000+ seeds. These can generally be found for most radishes for around $3.50 including S&H. In doing so, you will save money by not paying $1.00 per 100 seeds at Walmart or Lowes.